Perfect plan for YouTube marketing in 2022
Published on 25.05.2022 by Katie Koscienly
The first step in perfect YouTube marketing should come as no surprise: a goal must be defined - just like with any form of online marketing. If you have determined this goal with a sophisticated marketing strategy, you can already start. We are experts when it comes to YouTube strategy and promotion for business products/services. In this post, you'll get a glimpse of the insider tips that will change the way you see YouTube.
Let's get started!

Is there a perfect plan for YouTube marketing?
You should only start a YouTube channel if you have already created a detailed content plan. How regularly should you post? Should a day of the week always be dedicated to a specific topic? How much effort is realistic? All of these questions must be clarified in advance so that the perfect YouTube channel is created in the end.
Plan not only the type and frequency of each video, but also how to organize them. YouTube playlist marketing is above all a matter of order: by creating playlists, you structure your channel. The tidier your channel is, the easier it is for the user to find individual videos.
YouTube channel trailer and description
The channel trailer is the first video that the user sees on your channel. This clip can last a maximum of one minute, but a duration of around 30 seconds is better. And literally every second counts: this first video has to be engaging and entertaining, after all it is the flagship of your channel. As for the description of the channel, you should also keep it as short as possible. No user uses YouTube to read novel-like texts - the most important thing at a glance is required.
How to optimize YouTube video
When it comes to creating or optimizing a video for your business channel, there are a few things to consider:
When shooting, shoot more material than is actually necessary.

That way, you're sure to get the right take and enough material to edit.

Trim, trim, trim the video.
The fact is: shorter clips are more popular. Videos up to 5 minutes long have a good chance of being viewed in full. The first 5 seconds are the most important: You decide whether a user stops or continues looking. And the watch time is an important ranking factor.
Create a separate thumbnail for each video. YouTube automatically creates thumbnail image templates. However, the better choice is usually self-created thumbnails, for example short descriptions of the content of the video. The image can have a maximum of 2 MB, Full HD resolution (1920 x 1080) is ideal.
Of course, video optimization does not only refer to individual videos, but to the overall performance of the YouTube channel. What is involved in video optimization and what is really important is explained in great detail in this comprehensive YouTube SEO guide, using examples. Check the image below - David Dobrik is always sticking to one particular timing - 4 minutes and 20 seconds. It means that short videos up to 5 minutes always have bigger influence on people rather than 1 hour videos.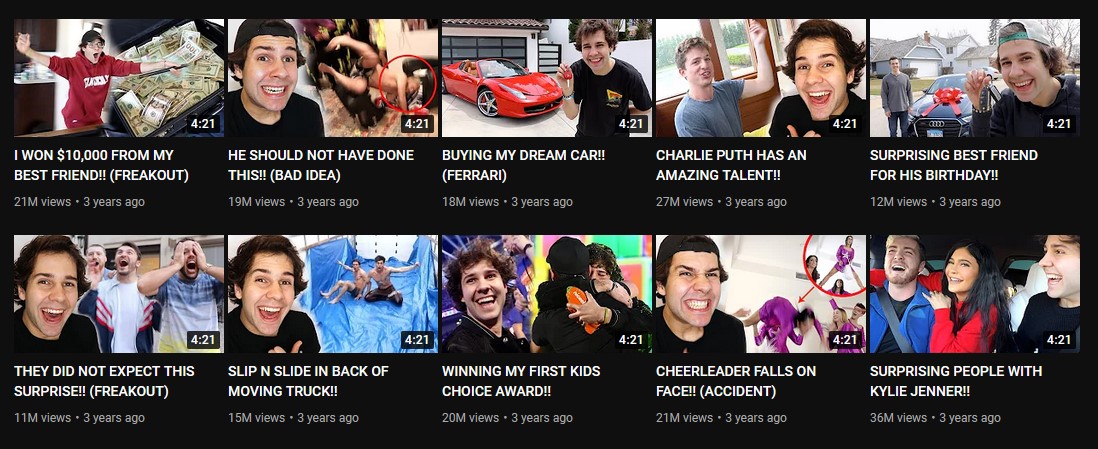 Another tip: Use YouTube Analytics to see how users come to your video, how they interact with it, etc. You can optimize further videos accordingly.
How to promote YouTube video
Of course, the most obvious way to promote the video is to share it on social networks. It is not enough to just post the link alone: ​​Provide it with a short, meaningful description or trending hashtags.
A second option is to increase reach using AdWords and video ads. This works in three ways:

In-Search: The video is highlighted in color and placed before the organic search results.

In-Display: The video is highlighted in color in the related videos on the right edge of the screen.

In-Stream: The video runs before another video.

Like any online marketing post, promoting a YouTube video requires finesse and experience. There is no patent solution, again: the proof of the pudding is in the eating!