Understanding the Spotify Algorithm to Boost Your Presence
Published on 17.07.2023 by S.N
Have you ever wondered how Spotify chooses the music it suggests for you? Why one song is recommended over the other? Understanding the Spotify Algorithm can improve your musical experience and even help boost your own music. Since its release in 2008, Spotify has become the world's largest streaming platform with over 515 million active users. Music creators have been using it ever since to promote their work and reach new audiences. However, many are unaware that the algorithm heavily influences which songs listeners get to hear. It uses a variety of factors such as user preference and activity to decide which tracks will appear on their playlists and radio stations.
Explore the Spotify algorithm so that you can understand how it works and how it can help you maximize Spotify's potential to promote your music. We'll look at things like user data, genre preferences, frequency of listens, and other nuances that contribute to the way the algorithm is built. We'll also provide tips on how to use them to your advantage, for instance, by creating engaging content and optimizing your profile for a "discovery".
How Does The Spotify Algorithm Work
Spotify's algorithm is an incredibly powerful tool that uses advanced technology to deliver a personalized, tailored experience to each of its users. It takes into account various factors such as the music you've previously listened to, what genres or artists you prefer, and even the time of day when creating its tailored playlist. To create the perfect mix for each listener, Spotify uses several different components:
Music Preferences: The algorithm analyzes your past listening habits to determine which songs and artists you prefer. This information is then used to curate a list of tracks tailored to your specific tastes.
Genre Trends: Spotify looks at customer data from around the world to identify which particular genres are popular in different countries and cultures. This information can be used to suggest tracks from unfamiliar artists or genres, as well as introduce you to new music that you may enjoy.
Time of Day: Spotify's algorithm also takes into account the time of day when creating its curated playlists. Listening habits tend to change depending on the hour, so this helps ensure that the songs you hear are relevant to your needs at a given moment.
In addition to these, Spotify also has several features such as 'Daily Mixes' and 'Release Radar'. These use a combination of the methods mentioned above, that create innovative playlists based on users' individual tastes. Spotify's algorithm helps the platform tailor its recommendations according to your personal preferences and current listening habits. With each listen providing an individualized experience crafted just for you, no wonder why millions of people use the streaming service every day.
How to Optimize Your Music for the Algorithm
Music streaming services like Spotify have become an essential part of the music industry, and with them comes the ever-evolving algorithms designed to improve user experience. Artists must consider how their music is being heard by audiences on streaming websites in order to optimize for the algorithm and maximize reach. Here are a few tips to help you optimize your music for the particular platform: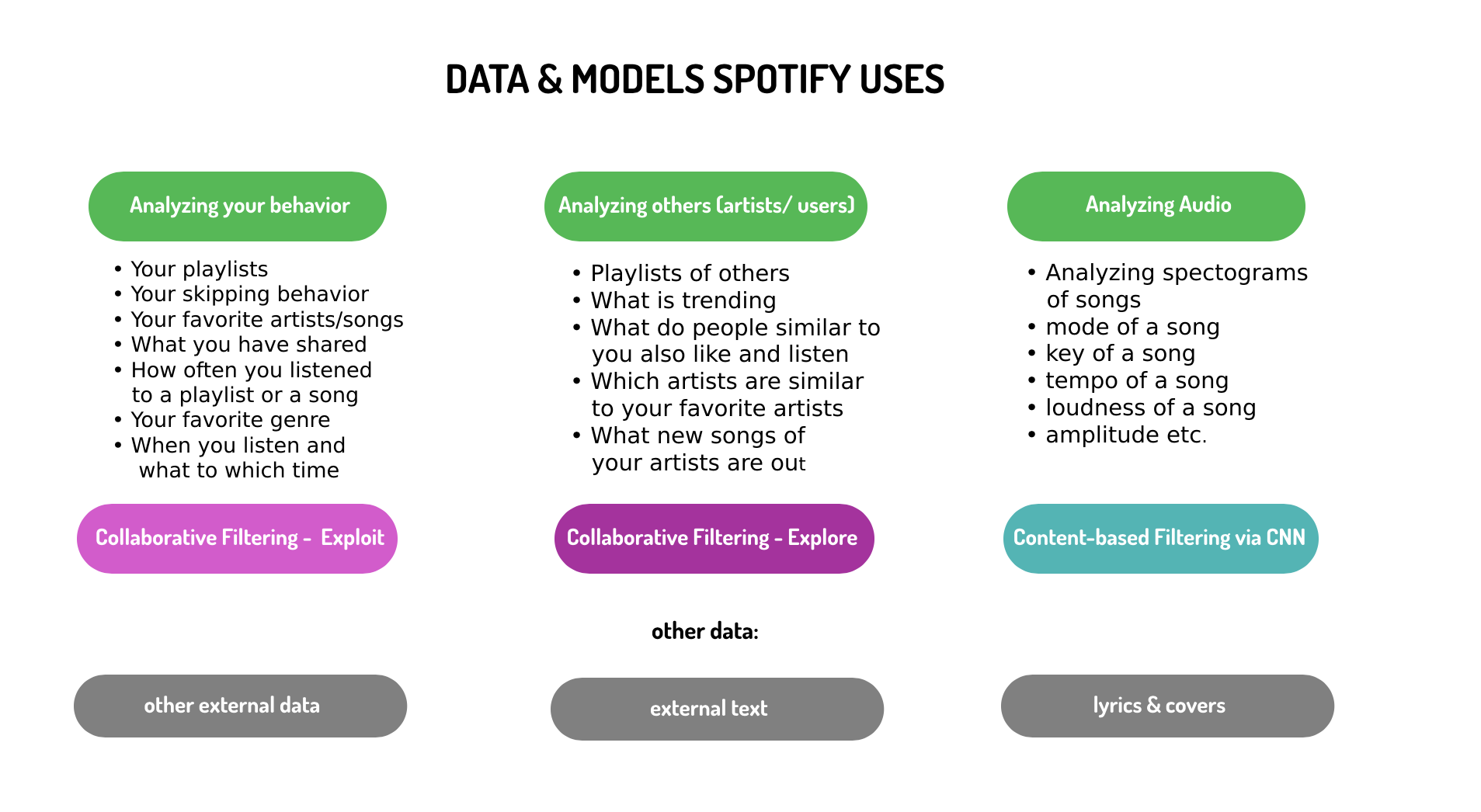 Create Engaging and High-Quality Tracks
Streaming services reward artists for making high-quality tracks and playlists that get people listening, so make sure your music is up to par in terms of audio quality and engagement. Pay attention to the flow, structure, dynamics, story-telling and other elements that will make your track stand out (especially if you use Spotify for broadcasting podcasts.
Optimize Your Spotify Profile
Streaming services use data to determine the best music for their users, so optimizing your profile will let the algorithm know who you are and what kind of music they can expect from you. Include clear images, detailed descriptions about you and your work, genre tags and other relevant information that will make it easier for streaming sites to match listeners with your music.
Encouraging Listener Engagement
The algorithms look at listener engagement as an indicator of popularity, so including features like interactive polls or allowing fans to submit questions for Q&As are great ways to get people engaged with your music.
Consistent Release Strategy
Music streaming services reward regular releases over sporadic releases, so having a consistent release schedule can help you maintain relevance and visibility as far as the algorithm goes.
Collaborate with Other Artists
The algorithms look for artist collaborations as an indicator of success, so working together with other artists to create music can be beneficial for both your reach and your career. Especially if you manage to hit it off with a relatively big name.
Stay Up-to-date with New Trends/Updates
Algorithms are constantly evolving and changing, so it is important to stay informed on new trends or updates that could affect how your music is presented and heard by listeners. This will ensure you are always making the most of each streaming platform.
Conclusion
Understanding the Spotify algorithm is essential for any artist or musician looking to increase their visibility and reach more listeners. Taking the time to familiarize yourself with how the algorithm works, as well as actively optimizing your music profile on the platform, you can greatly improve your chances of success in the streaming world. Following the tips above, you can optimize your music for all the existing streaming services and get the most out of being there. With a little bit of effort, you will be able to reach more listeners and gain greater success in the music industry.