How To Restore Suspended YouTube Account
Published on 12.05.2023 by Sofia N
Logging into your YouTube account only to find it has been suspended can be a major blow. It can mean the livelihood of your channel, or even just access to your favorite videos, is suddenly out the window. Fortunately, there are steps you can take to get your account restored. This article will guide you through the process of restoring your YouTube account in a few simple steps. First things first, let's discuss why an account may get suspended. This way, you'll have a better understanding of why certain actions and policies are in place, as well as how to abide by them so that suspension doesn't happen again!
What Causes a YouTube Account to Be Suspended
YouTube suspends accounts that violate their community guidelines or terms of service. The most common reasons for suspension are related to copyright infringement, spam, impersonation, harassment, and inappropriate content. For instance, if a user uploads content that contains copyrighted material without the owner's permission, YouTube may suspend the account. Similarly, if a user repeatedly posts spam or deceptive comments or videos, they risk having their account suspended. Harassment, bullying, hate speech, or any form of abusive behavior towards individuals or groups is also grounds for suspension. Additionally, uploading sexually explicit content, excessive violence, or anything that violates community guidelines can result in account suspension.
In some cases, YouTube may suspend an account without warning, particularly if the violation is severe or repeated. However, in most cases, YouTube will issue a warning or strike against the account, giving the user a chance to correct the behavior before taking further action. The length of the suspension may vary depending on the severity of the violation, and the user may have the opportunity to appeal the decision. It's important for YouTube users to review the community guidelines and terms of service carefully to avoid violating them and risking account suspension.
How to Check the Status of Your YouTube Account
Whether your YouTube account has been suspended, removed or restricted due to violations of YouTube's Community Guidelines, you'll need to know the status of your account in order to get it restored. Checking the status of your account is super easy. Simply log into the Google Account linked with the YouTube channel and visit the restriction section. There, you will be able to see any restrictions or suspensions that have been applied to your channel as well as which Community Guidelines have been violated. If no violations are found, then your account is in good standing and you don't need to do anything else.
Once you know the status of your account, you can take the appropriate steps for restoring it. If it has been suspended for any reason, follow YouTube's instructions for appealing the decision and submitting a request for review. In most cases, this will result in a reversal of the suspension and allow you to resume uploading videos as usual.
How to Resolve a YouTube Community Guidelines Strike
If you've received a YouTube Community Guidelines strike on your account, it's important to resolve it quickly. If the strike has expired, you may still need to follow the steps below in order to fully resolve and restore your account.
Understanding the Community Guidelines Strike
The first step is to understand why your account was suspended in the first place. YouTube offers a list of all its community guidelines that can help you identify which policy your video or channel violated. Once you have determined this, you can better equip yourself to take corrective action and prevent similar issues from arising in the future.
Resolving the Strike
Once you understand why your account was suspended, it's time to start resolving the issue. You can do this in a few different ways:
Appeal the suspension by reaching out directly to YouTube support and explaining the violation. This could result in the strike being removed from your record or a reversal of the suspension decision, depending on YouTube's response.

Edit or delete content from your platform that violates YouTube's community guidelines. This should be done with extreme care as it will likely require removing whole videos and even entire channels from your platform if needed in order to restore your account's standing.

Make an effort to educate yourself on YouTube's community guidelines and update any content that may not be compliant with them moving forward; this will help ensure that there are no more missteps down the line which could result in more trouble for your account.
How to Correct a Copyright Strike on Your YouTube Account
If you've got a copyright strike on your YouTube account, no worries — you can still restore it. The best way to do that is to file a formal counter-notification with YouTube. A counter-notification is an appeal that explains why the material was used in error and should be reinstated. To start the process, fill out the form and attach a statement under penalty of perjury that includes:
Your identification, contact information, and signature

A description of the material that was allegedly infringed

A statement attesting to your belief in good faith that the material was taken down by mistake or misidentification

An explanation of why removing or disabling access to the material would involve an injury to you or a third-party

Your phone number and physical address
Once your counter-notification has been reviewed and accepted, your account will be restored. However, filing multiple counter-notifications can cause more and more serious penalties for copyright infringement so make sure to only file one if absolutely necessary!
How to Restore Access to Restricted Videos & Content Settings
No one likes it when YouTube blocks their account, but if you've had yours restricted, there is a way to restore access.
Restricted Access
Restoring access to restricted videos (or content settings) is no easy feat. First, use the 'Support' page within your YouTube account to help identify why your account was blocked in the first place. This will provide an overview of any policy violations that need to be addressed prior to restoration of your account.
Requesting An Appeal
Once you've identified the reasons for the restriction, you can request an appeal with YouTube by using the 'Appeals' form and including a detailed explanation for why your account should be restored. It's crucial that you make sure to include a clear explanation and any evidence that might support your grievance.
Complying with Guidelines
Finally, be sure to comply with all YouTube guidelines related to content, ads, or copyright issues going forward - this will help ensure that any future restrictions on your account are minimal or nonexistent. Through these steps and some patience, you should be able to get access restored in no time!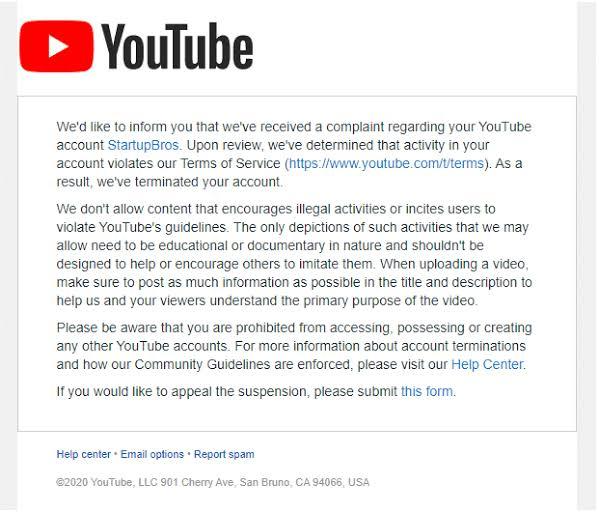 YouTube's Three-Strike Policy
When it comes to suspended YouTube accounts, you need to understand YouTube's three-strike policy. That's right, three strikes and you're out! So what exactly constitutes a "strike"? A strike on your account can be the result of copyright infringement, violations of YouTube's terms of service, or inappropriate behavior like harassment or hate speech.
Strike 1: Warning
The first offense is considered a warning and YouTube will typically take no action against your account. However, they may place restrictions on it to prevent further violations.
Strike 2: Temporary Suspension
If the same violation occurs again within three months of the warning, then YouTube will disable your account temporarily and remove all videos that are in violation.
Strike 3: Permanent Suspension
After two strikes, if the issue isn't resolved the third time then your account will be permanently suspended from YouTube and all associated Google services will also be disabled.
So if you ever find yourself in this situation, be sure to take action quickly by addressing the issue directly with YouTube and following their instructions precisely. That way, you can hopefully restore your account before it's too late!
Preventing Future Suspensions
So, you got your YouTube account back. Congrats! But what can you do to prevent getting suspended again? The good news is that there are some simple steps you can take to make sure your account remains safe and secure. Here are some tips to protect yourself and your account in the long run:
Follow the rules
YouTube has clear policies when it comes to what content is allowed and what isn't. So make sure you familiarize yourself with them and follow them closely so that you don't accidentally upload anything that might go against community guidelines.
Understand copyright law
Copyright doesn't just apply to music, but also to videos, artwork, images and text. So if you upload any content that belongs to someone else, make sure that you have the appropriate permission from the creator or have licensed it properly. Also, be aware of fair use laws, which allow for limited reuse of copyrighted material for certain purposes.
Stay vigilant
Remain aware of what is going on in your channel—keep an eye out for comments from viewers or takedown notices from companies claiming copyright infringement. If something looks fishy, delete it as soon as possible before YouTube's algorithms flag it for review.
By following these easy steps, you can help ensure that your YouTube account remains safe and sound in the future!
What to Do if the Appeal Is Unsuccessful
Unfortunately, your account might be suspended even after you've appealed. You'll get an email with information on why your account was terminated or suspended and what you can do to restore it.
If you want to try again, here are some steps to take:
Read through the email carefully — if you don't understand something, use the Help Center for more information

Make sure to address the issues that caused the suspension in the first place when submitting a new appeal

If applicable, include a detailed plan of action on how you'll prevent similar issues from happening in the future

Make sure your appeal meets YouTube's Community Guidelines and Terms of Service

Submit a new appeal using this form

While waiting for YouTube's response, continue following YouTube's Community Guidelines and Terms of Service
What Will Happen When Your YouTube Account Is Suspended?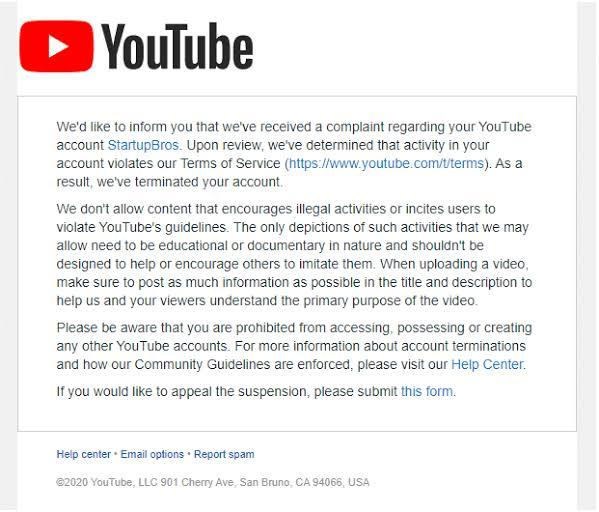 If you find yourself in the uncomfortable position of having your YouTube account suspended, you might be wondering what exactly is going to happen. After all, you've got a lot of content on there that you don't want to lose!
Immediate Impacts
When your YouTube account is suspended, you won't be able to:
Access your channel

Login with your username and password

Upload videos or livestream

View videos you've uploaded or liked

Post comments

Manage Community posts

See channels you've subscribed to in the Subscriptions feed
All of your personal data such as playlists and uploads will also be deleted. It's unpleasant, but don't worry too much—you may still have some recourse!
What Can You Do?
It's possible to repair the damage and restore access to your account if it has been suspended. By following the steps outlined by YouTube, like responding quickly to any email they send, being cooperative and transparent, or uploading evidence of maturity if needed, there's a good chance that you can get it back.
Resources for Further Assistance With Restoring a Suspended YouTube Account
If you've done everything you can to try to restore a suspended YouTube account and haven't had any luck, there are still more ways to get help. Here are a few resources you can turn to:
Google Support
Sometimes reaching out to Google support can be the best way to get help restoring your account. Google's customer service team can provide helpful advice and support, as well as offer more specific instructions on how to proceed with your account.
YouTube Community Forum
The incredible thing about the internet is that there's usually someone who's been through the same thing as you, and the YouTube community forum is no exception. The YouTube Community Forum gives users an opportunity to chat with fellow YouTubers and share their experiences, offering up valuable advice and insights play-by-play. It's also a great place for finding more information about restoring suspended accounts when all else fails.
Professional Help
Having trouble understanding why your account was suspended in the first place? Professional help may be the solution — there are many professionals out there who specialize in getting your account back in no time! This can be particularly helpful if you have a lot of videos uploaded or need specialized advice from an experienced professional.
Conclusion
With a bit of luck, following this guide will have your YouTube account restored in no time. However, if you're still not sure what you did wrong or need help taking steps to prevent this from happening in the future, reach out to YouTube's customer service. They should be able to provide further guidance and answer any questions you may have. Above all, make sure to read YouTube's Terms of Service, Community Guidelines, and other relevant policies. These are there to not only protect YouTube but also their users. Being aware of their policies will help you ensure your account won't be suspended again in the future.