Apple Music VS Spotify Comparison
Published on 09.07.2023 by S.N
Are you looking for the ultimate music streaming service? With Apple Music and Spotify both dominating the market, it can be difficult to determine which is the right for you. Well, that is mostly, for Apple users, as android users usually don't even think about using Apple Music for streaming or listening to podcasts. Both services offer a good selection of streaming options and features, so how do they compare? Let's break down the pros and cons of each to help you make the final decision.
For the very basics, Apple Music and Spotify are both popular subscription-based streaming services that allow you to access a large library of music and podcasts. Apple Music provides users with over 90 million songs and over 30,000 playlists, while Spotify has an even larger selection of more than 100 million tracks over 4 billion playlists. Both offer curated playlists created by the editorial teams, as well as thousands of user-generated ones built from the libraries of subscribers.
Which Is the Best Music Streaming App?
Which one you want to choose depends on your preferences and what features matter to you most. There are a few deciding factors that might have nothing to do with features on Apple Music or Spotify though. For instance, both offer premium audio streaming with access to millions of songs. However, different users claim one to have superior quality over the others (a personal proven not proven technically whatsoever). Let's now take a closer look at some technicalities:
Apple Music
Access 100 million+ tracks, albums, and playlists.

Get personalized music recommendations based on your tastes.

Download songs and listen offline with no ads or interruptions.

Stream ad-free radio stations from around the world.

Create and share playlists with friends.

Connect with your favorite artists and see their content first.

Enjoy exclusive Apple Music podcasts and music videos.
Spotify
Access 80 million+ songs, albums, and playlists.

Listen to personalized playlists based on your tastes.

Download songs for offline listening with no ads or interruptions.

Stream ad-free radio stations from around the world.

Create and share playlists with friends and followers.

Enjoy exclusive Spotify podcasts, music videos, and live performances.

Listen to your music on any device for free.
Pricing:
When it comes to pricing, Apple Music and Spotify are fairly similar - both offer individual plans for around $10 per month, family plans for up to six people for about $16 monthly, and student discounts for half price around $5. In addition, both platforms have an ad-supported free tier, although this only gives users access to limited content. Both Apple Music and Spotify offer great audio streaming services with access to millions of songs. However, there are a few key differences between the two. Apple Music provides exclusive content you won't find anywhere else, while Spotify has more playlists and radio stations available for free listening. So it comes down to which streaming platform resonates with your musical taste and enhances your listening experience.
Comparison Between Apple Music VS Spotify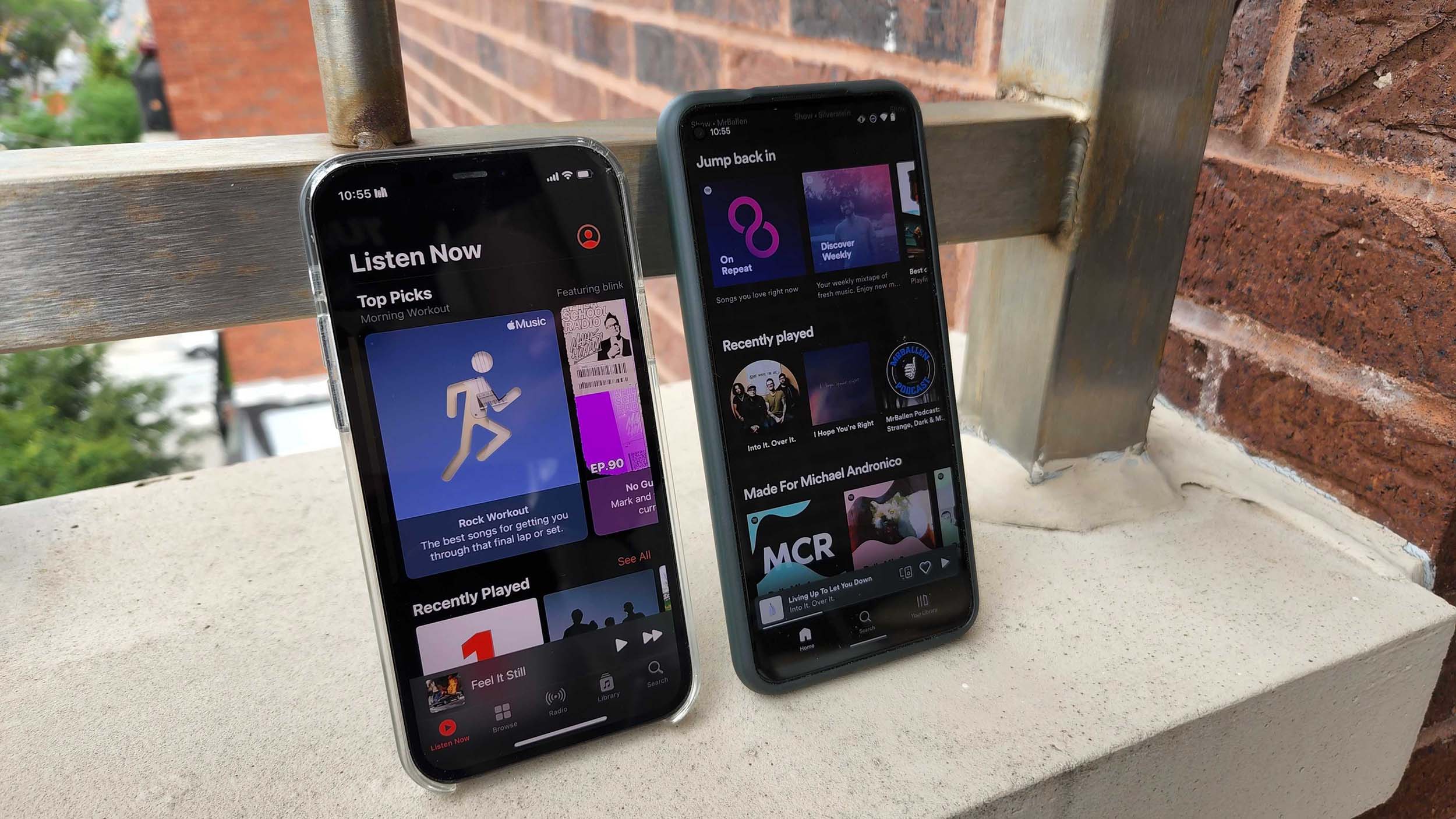 Now that we've covered the basics, let's get a bit more nuanced.
Availability
Apple Music is available on all Apple devices (iPhones, iPads, Mac computers, and the Apple Watch). It's also available on Android phones and tablets, Windows 10 PCs, and some connected TVs, through their dedicated apps. The platform is available in 167 countries in total.

Spotify can be accessed across a variety of platforms including phones (Android & iOS), desktops/laptops (Windows & macOS) as well as Smart TVs, game consoles, and other streaming devices. Spotify is available in 178 countries as of now.
Music Library
Apple Music boasts an impressive library of over 100 million tracks

to choose from, with new music being added each week. The majority of music tracks are available in either standard or high-quality audio formats.

Spotify, on the other hand, boasts a library of over 80 million tracks, with new releases being added regularly. Like Apple Music, most songs can be streamed in either standard or high-quality formats.
Sound Quality
Apple Music streams music at 256 Kbps AAC files (the same bit rate as iTunes purchases). This is considered higher quality than the 160 Kbps streaming quality offered by Spotify's free tier and 320 Kbps for its premium tier subscribers.

Spotify offers three different sound qualities - high (320 kbps), normal (160 kbps), and low (96 kbps) - to its users. High-quality audio is only available to premium subscribers, while free users are limited to the lower bitrate options.
Pricing and Subscription Options
Apple Music offers a single subscription option at $10.99 per month for individuals or $16.99 per month for families (up to six people). A three-month trial is also available for new users.

Spotify offers two subscription plans - Premium ($9.99/month) and Premium Family ($15.99/month). Both plans offer ad-free streaming, offline downloads, and unlimited music skips as well as access to higher sound quality audio files (320 Kbps). There is also a free tier plan, which is ad-supported and limited to 96 Kbps sound quality.
Features and Recommendations
Apple Music users have access to the Beats 1 live radio station as well as exclusive content from featured artists such as interviews and playlists. The service also has an extensive selection of music videos as well as curated recommendations based on user's listening habits.

Spotify offers its own in-app radio feature called "Discover Weekly", which serves up personalized song recommendations every week. It also provides users with the ability to create their own playlists or follow existing ones created by other users. Premium subscribers can download songs for offline playback, while all users can access podcasts and videos. The thing is, you can't skip more than 6 songs under one hour if you are not a premium user. And there are a lot of ads.
Head-to-Head Comparison:
Features

Apple Music

Spotify

1

Music Library

Over 100 million songs

Over 80 million songs

2

Pricing Options

Individual: $10.99/month,

Family: $16.99/month,

Student: $5.99/month

Individual: $9.99/month, Family: $15.99/month, Student: $4.99/month

3

Offline Listening

Yes, songs can be downloaded for offline listening

Yes, songs can be downloaded for offline listening

4

Audio Quality

Standard 256 kbps in AAC audio format

Up to 320 kbps in Ogg Vorbis format

5

Personalization

Curated playlists and personalized recommendations

Discover Weekly, Daily Mixes, and personalized playlists

6

Podcasts

Yes, includes a wide range of podcasts

Yes, includes a vast collection of podcasts

7

Social Features

Connect feature for artists and fans

Extensive social integration with friend playlists and sharing

8

User Interface

Sleek and user-friendly interface

Modern and intuitive interface

9

Platform Availability

Available on iOS, Android, Windows, macOS, and web

Available on iOS, Android, Windows, macOS, and web

10

Exclusive Content

Collaborations with artists for exclusive releases

Spotify Sessions, exclusive podcasts, and limited-time releases
Wrap Up
Both Apple Music and Spotify provide great streaming services with music libraries of over 90 million tracks and the sound quality up to 320 kbps in the 'Extreme' setting for Premium subscribers. Apple Music has an advantage in its exclusive content while Spotify offers more collaborative features and social sharing opportunities. In terms of pricing, both services have similar single and family plans, with the single plans costing around $10/month. Both have a variety of unique features and benefits that cater to different types of music listeners. It's up to the user to decide which streaming service works best for their needs.