A Step by Step Guide To Changing YouTube Language
Published on 16.05.2023 by Sofia N
Are you tired of trying to decipher YouTube's interface in your native language? Or perhaps you've been stuck watching a tutorial video and can't figure out the exact steps to complete the process? No matter what your reason is, switching up YouTube's language display is an attainable goal—and we're here to show you how.
In this article, we'll be providing a step-by-step guide that covers how to change YouTube's language from English (or any other) to whatever language best suits your needs. Whether you need subtitles in Spanish or are simply looking for a more intuitive experience, this guide will make sure you walk away feeling confident about making the switch. So let's get started!
What Languages Are Available in YouTube?
Are you looking to change your YouTube language? You may be surprised to find that YouTube offers a wide range of languages—over 100 in total! From Spanish, French and Chinese, to newer languages like Cherokee and Kinyarwanda. Whether you're interested in exploring a new culture or just want to customize your user experience, switching your YouTube language is easy.
To get started, open the settings page on the left-hand side of your homepage. Here you'll find a drop-down list with all the different language options available. With so many options, it's easy to find one that suits you best. Select your desired language and then click "Update". Once the page refreshes, the interface will switch accordingly. Still have questions? YouTube provides helpful guidance on its help page if you ever need assistance changing other settings related to language preference.
How to Change YouTube Language on the Desktop
Ever get frustrated when YouTube is not in your preferred language? Well, there's an easy way to switch it as needed. Here's a step-by-step guide for making that change:
Sign in on YouTube from your computer and click on the three dots in the upper right corner of your screen.

From the menu bar that appears, select Settings and then click on Language & Input Tools.

On this page you will be able to choose any of YouTube's supported languages from the drop-down list of languages which are available in your region.

Once you have made your selection, click Save Changes at the bottom right corner of the page to apply it to your account and enjoy YouTube in your preferred language!
You can always switch back or choose a different language if need be, so don't be afraid to experiment!
How to Change YouTube Language on the App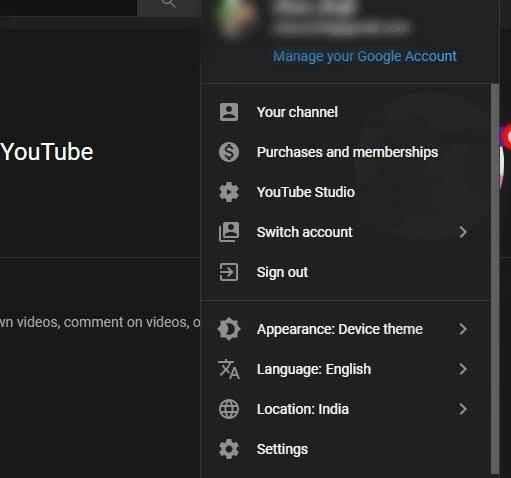 Start by heading to your profile page. On the top right of the app, you'll see an icon with three vertically stacked dots; click on it to open up a dropdown menu. From there, select "Settings."

Scroll down and you'll find a section that reads "Language" — this is what you're looking for! There should be an arrow pointing downwards next to it; tap on it to expand the selection.

This is where you get to choose the language for the YouTube app. Select your desired language from the list, and make sure to select 'Confirm' at the bottom of the page when you're done. Now, open up any video and you'll notice that all text will now be in whatever language you just selected!
There you have it — now you know how to change YouTube's language in no time. Pretty easy, right?
Language Settings for Kids' Accounts
It's easy to change the language settings of a YouTube account, but when it comes to kids accounts, you have to be extra sure that they are set up properly. Luckily, the steps are still the same—but there are a few more options that you should consider.
First, log in to the kid's YouTube account. Then click on your profile image in the top right corner and select 'Settings'. Then click on 'General' and scroll down to find 'Set Language Displayed'. Here, you can select a primary language for all parts of YouTube, including subtitles for videos.

You can also select different languages depending on whether you're viewing YouTube from a desktop or a mobile device—this will ensure that the navigation and menus show up in their most comfortable language when they're using either device.

Finally, make sure you save any changes made by clicking 'Done' at the bottom of the page. That's it! With just those few steps, your kid's YouTube Account is now better suited to their language needs.
Tips for Quick Switching of Language Settings
If you're a frequent traveler, you know that changing a language setting on YouTube quickly can be a time saver. Here are some tips on how to do it fast: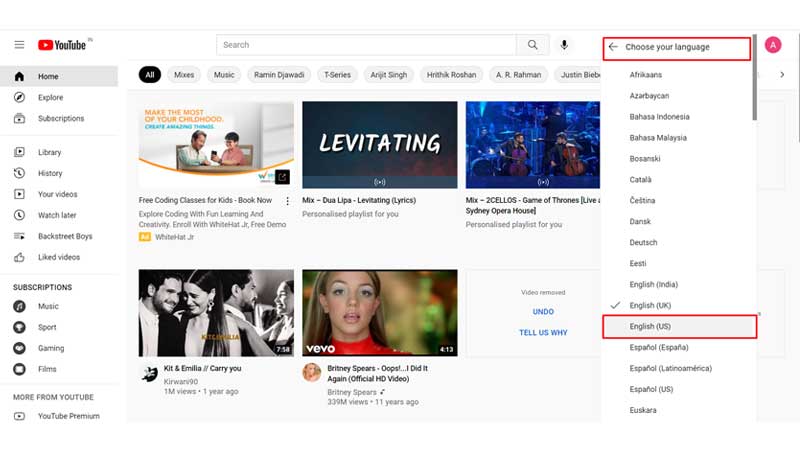 Use the Language Settings Menu
The fastest way to change your language setting is by using the language settings menu. You can find this in the YouTube home page, under Settings > Language, then select your language from the dropdown list. The change will take effect immediately and you'll be ready to watch videos in your desired language.
Use the Account Menu
You can also access your language choice from the account menu - simply click on your profile icon and select "Language" from the dropdown list. This will open up a window with all languages available for viewing, so all you have to do is select yours and confirm.
Change Your Language Within Videos
Finally, if you're watching a video in a different language than you'd prefer, don't worry - there's an easy fix! Within any video that's playing simply click on the three dots at the bottom right of the video window, then select "Language" and choose your desired language.
Using these tips, you can switch YouTube languages quickly and easily so that you never miss out on content just because it's not in your preferred language anymore!
Troubleshooting Language-Change Issues
Had enough of trying to figure out how to change your YouTube language? Don't worry, you're not alone. But if you're still having troubles, here are a few tips to help you out.
Check Your Connections
If your language-change process is taking too long or something keeps erroring out, the first thing to check is your internet connection. If it's slow or unreliable, that could be the cause of the issue. Double-check your Wi-Fi settings and make sure all cables are securely connected before trying again.
Clear Your Cache
Your browser cache stores web pages so they load faster whenever you revisit a page. But if it gets overloaded this can actually slow things down, so it's a good idea to clear your cache and delete any unwanted cookies or data that have built up over time– this often helps speed things up again.
Update YouTube App
Finally, make sure that the YouTube app on your device is up-to-date with the latest version – outdated versions can cause glitches which can easily be solved by updating the app!
Optimizing YouTube Search in a Foreign Language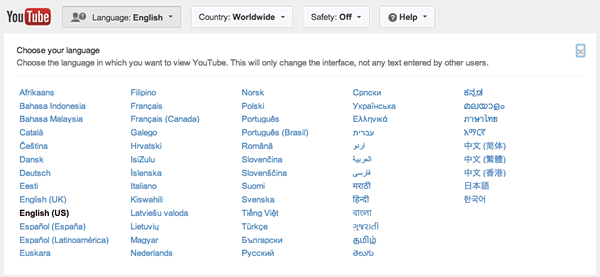 Changing the language of your YouTube search can be a great way to access more videos and content. But how do you go about optimizing your search in a foreign language? Good question. Here are some key points to remember when it comes to optimizing your search:
Use local phrases
It's easy to get caught up in translating words over, but this can often result in inaccurate translations. Instead, use local phrases as much as you can. For instance, if you're trying to find content from Poland, use Polish phrases instead of English-Polish translations.
Use singular and plural versions of words
Another important factor that's often overlooked is using both singular and plural versions of words. This will ensure that your results are comprehensive and all-encompassing.
Utilize search filters
Finally, don't forget about the YouTube search filters, which allow you to refine results by channel type or by duration. This is especially helpful if you're looking for something specific, like short videos made by celebrities or interviews with leaders on politics in Italy.
Doing these three simple steps will make the process of finding content in foreign languages much easier and more effective when using YouTube's search feature.
How to Switch Languages in YouTube TV
Maybe you want to catch up on your favorite international shows. Or maybe you're studying a foreign language and you want to practice it with YouTube TV. Whatever your reason, if you want to switch languages in YouTube TV, here's how:
Log into your account.

Under your profile name in the top right corner, select Settings > create a new profile or edit an existing profile.

Select the Language tab at the top of the page, and then select the language you prefer from the list of available languages.

Finally, click Save and Exit to save your changes.
Now that you know how easy it is to switch languages on YouTube TV, don't be afraid to explore outside of your current linguistic comfort zone! You may even find a new favorite show or learn something new!
FAQs
Can't figure out how to change your YouTube language? Don't worry, you're not alone! We know it can be a little confusing, so we've gathered the most commonly asked questions about changing YouTube language.
Can I change my YouTube language in the mobile app?
Yes, you can! You can easily switch languages in the YouTube mobile app and desktop version.
What happens if I select a different language than my device's default?
When you switch your language on YouTube, you'll see content tailored to that region—like videos from local creators, as well as all videos in that selected language. However, it won't affect all other settings on your device. If you want to change the system settings for any other Google products and services on your device, like Gmail or Google Maps, you'll have to do it through those settings.
Is there a way to browse content in multiple languages?
Yes—you can access multiple languages at once by setting up an account and customizing your interests in the YouTube Settings page. On this page, you can choose multiple languages that will appear in your News Feed and Recommended Videos so that you can watch content from different regions around the world.
Conclusion
All in all, changing the language in YouTube is easy, and can be done in a few simple steps. The process is the same for both desktop and mobile, and the menus are intuitive and easy to navigate. Whether you want to change languages to improve the viewing experience or just to get localized content or recommendations, YouTube's wide range of language options allows you to customize your experience and explore the world without leaving your screen. So if you're looking to expand your view of the world, give YouTube's language options a try.