Utilizing SoundCloud Analytics for Musical Success
Published on 22.06.2023 by S.N
Are you an aspiring artist looking to maximize your musical success? Have you ever wondered how to track and measure the performance of your music? Utilizing tools such as SoundCloud Analytics can help you gain insights into your audience, track your growth, and make informed decisions about where to focus your efforts.
SoundCloud Analytics is a powerful tool that provides you with valuable feedback and detailed insights about your songs and the people who are listening to them. From how many plays a song is getting, where it's being played, and even which cities are engaging most with your music - Analytics offers comprehensive data that will help you better understand your audience and make the most of your music. Explore how SoundCloud Analytics works and how to use it to maximize your success as an artist. We'll also give you some tips on how SoundCloud analytics can propel your music career.
Overview of SoundCloud Analytics
SoundCloud offers powerful analytics tools that allow users to track their streaming performance and gain insights into the impact of their content. With a few clicks, SoundCloud's analytics dashboard provides real-time feedback and long-term analysis of your music, including how many plays you receive by region and what type of listeners you are connecting with.
The analytics dashboard also allows users to monitor the performance of individual tracks, playlists and albums, providing a detailed look into audience engagement and reach. It reveals who is engaging with your content and where in the world they are listening from. To get an even better understanding of how your music is performing, SoundCloud's platform integrates with third-party services. SoundCloud analytics provide a roadmap to success, guiding musicians on their journey by revealing valuable insights about their listeners, engagement, and trends.
Features Available on SoundCloud Analytics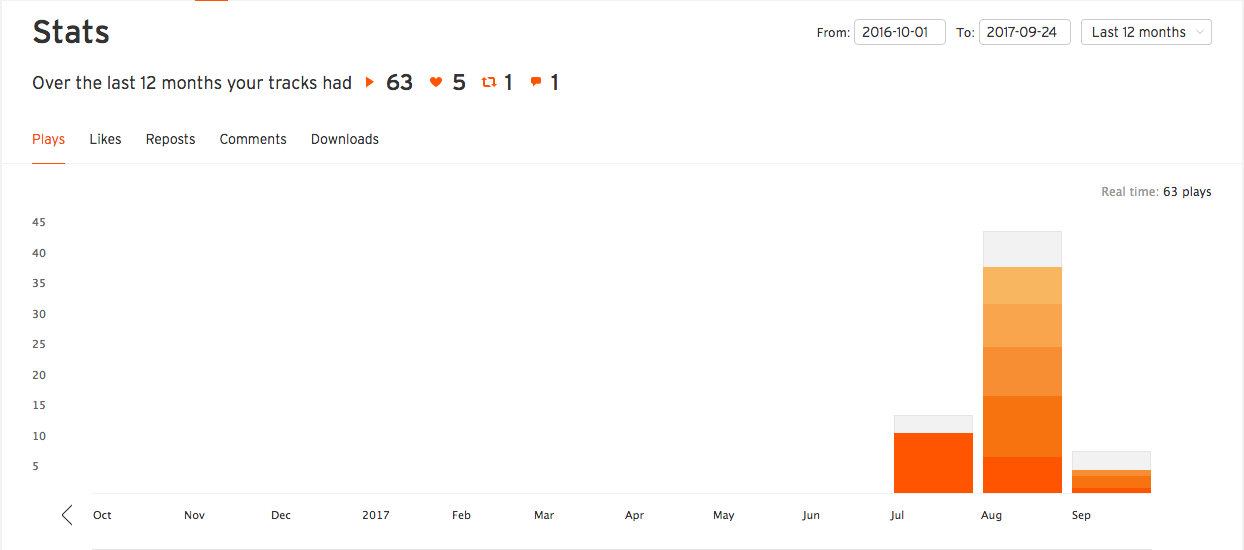 Some things you can easily achieve with the help of analytics include:
Track Performance
Get a detailed look at how your music performs over time by viewing individual track plays, likes and reposts. See where your audience is located and what type of devices they are using to listen to your music.
Playlists & Albums
Keep tabs on the performance of entire playlists or albums by determining which tracks are performing better than others. See which countries and cities are listening to you the most, as well as determine if any of your content is being shared on other platforms.
Analyze Playback Trends
SoundCloud Analytics helps artists identify popular tracks and measure listener engagement. The data can be used to pinpoint when listeners are most engaged with a track, as well as reveal drop-off points that indicate where transitions or edits could help improve the overall listening experience. This data provides valuable insight into what's resonating with fans, and can be used to help inform marketing strategies.
Third-Party Integrations
Take advantage of third-party services to further gain insights into your performance. With these tools, you can get a more detailed look at where you stand within the industry and discover ways to increase engagement with fans.
Utilize Engagement Metrics
With SoundCloud analytics, you have access to likes, reposts, and comments so that you can interact with your audience more effectively. Engage with your audience by responding to comments and messages, or setting up collaborations. Understand the dynamics of your fanbase and use it to create strategies for marketing and promotion.
Explore Audience Demographics
With SoundCloud analytics, you can get insights into listener demographics such as geographic location, age, gender distribution, etc. It helps you to discover listener interests to tailor your music and promotional strategies accordingly.
Optimize Your SoundCloud Strategy
SoundCloud analytics help you to set goals based on analytics and use insights to measure progress towards them. So, adapt your music and promotional strategies according to the target audience. Make data-driven decisions for success by using SoundCloud Analytics to track your performance.
With SoundCloud Analytics, you can uncover powerful insights to help understand your fanbase and optimize your Soundcloud strategy for success. Track the progress of individual songs and gain valuable insights into listener engagement so that you can make informed decisions about where to focus your efforts. Use these analytics to craft effective promotional strategies tailored to the interests of your listeners. With the right data, you can maximize your reach and success on SoundCloud.
How Musicians Can Utilize SoundCloud Analytics to Their Advantage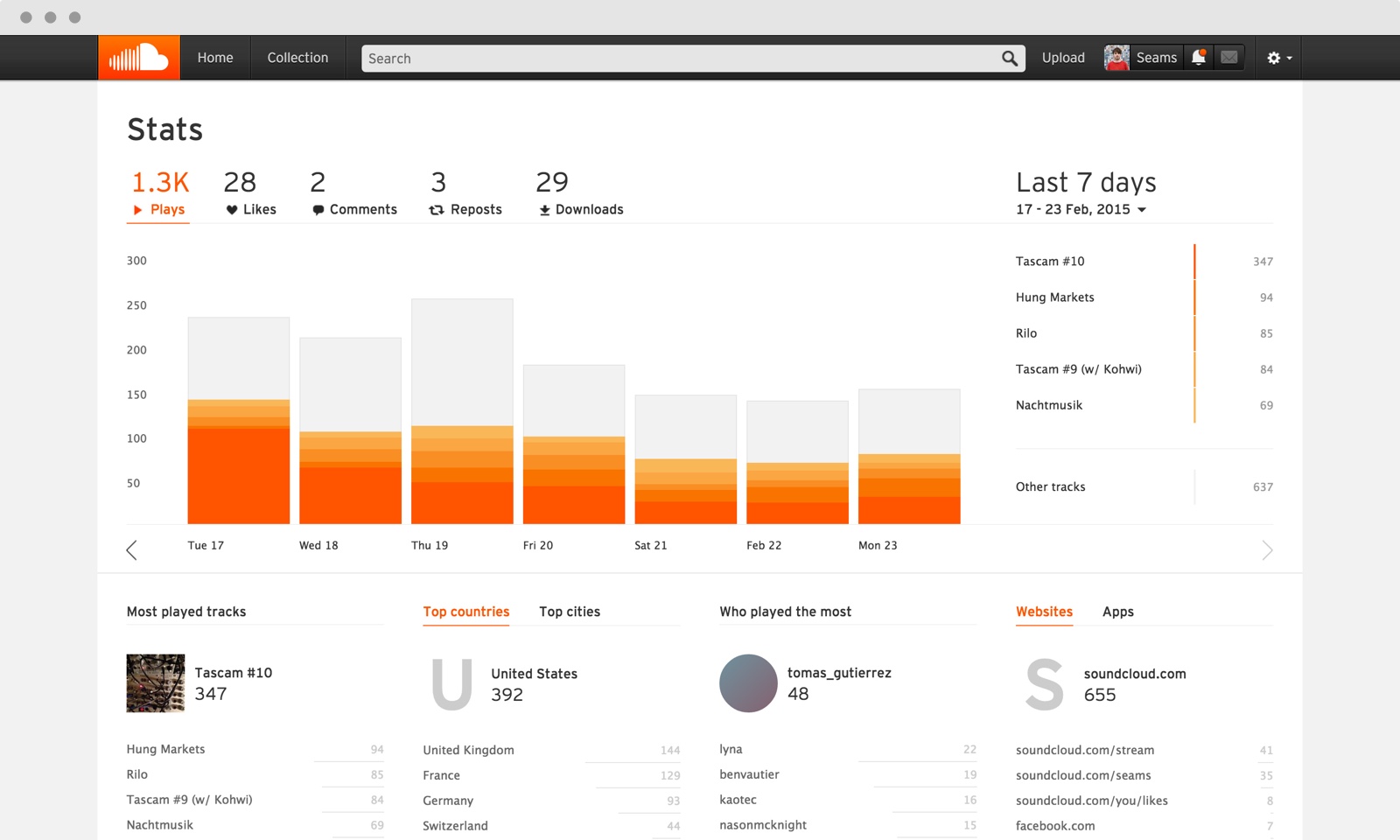 SoundCloud Analytics can provide invaluable insights to help musicians improve their music career. With access to in-depth data about your followers, streams, and engagement metrics, you can identify opportunities for growth and tailor your strategies accordingly.
Gain Insight into Your Audience: Find out who your supporters are, where they live, and how they interact with your music. This can help you create more relevant content for them and target specific regions when promoting concerts or shows.
Track Your Progress: Monitor your stats over time to see if you're hitting the mark and identify any trends in streaming numbers or listener engagement. Experiment with different strategies to find out what works best for you.
Identify Your Top Tracks: Find out which of your songs have the biggest reach so you can focus on producing similar pieces. You'll also discover which tunes elicit the most responses from fans, such as likes, reposts, comments, and shares.
Uncover Hidden Opportunities: Monitor which tracks are taking off in different countries and local hotspots. This can give you a better understanding of what kind of music resonates with particular audiences and help you locate potential new markets for your efforts.
Optimize Your Release Strategy: Analyze the timing of your releases to see when fans are most likely to listen to and interact with your songs. Adjusting the way, you roll out new material can go a long way towards connecting with more listeners.
Refine Your Promotion Tactics: Promotions on SoundCloud often have trackable links that allow you to assess their effectiveness. Measure how much traffic, followers, or streams they generate so that you can test different campaigns and adjust as needed.
Connect with Your Fans: Analyze the comments and questions people are leaving in response to your music, as well as what they're saying on social media. This will give you a better idea of how fans feel about your work and allow you to connect more deeply with them.
SoundCloud Analytics can provide valuable insights so musicians can take their careers to the next level, so be sure to take advantage of them and make the most out of your music.
Concluding Remarks
Utilizing SoundCloud analytics, musicians can gain a better understanding of their target audience and the success of their music. Having access to this data gives them the opportunity to make informed decisions about their music and marketing strategies. Moreover, it allows artists to better assess the impact of their work on the overall music industry. With this knowledge, they can create more powerful tracks and increase their success within the industry. So, good luck and thanks for reading!