Simple Tips to Improve YouTube Visibility Maximize Organic Reach
Published on 03.05.2021 by Samuel Henderson
YouTube is a place where millions of people can find content that they love. It is also a great way for regular users to get their voice heard and be recognized by other people. One of the best ways to improve your visibility on YouTube (as well as your organic reach) is through regularly publishing good content. We've compiled tips from some of the top YouTubers in the world, including Casey Neistat and PewDiePie, who have both managed to amass over 120 million subscribers.
Write a must-see titles
First thing is about the SE optimization of the video titles and descriptions. Yes, YouTube is a video platform but we, marketers, can call it a "video engine". It means that YouTube is a big video engine combining billions of videos on its servers. It means that you can search through different niches and find relevant videos. If you want to get a better organic reach, then you should take care of search engine optimization. You've to optimize video titles and descriptions with the keyword-rich text to get more visibility. Here are the tips on how to write a good YouTube video titles:
Include your keyword in the title. Remember that not everyone will find you if they can't search for it (check the image below - you see how perfectly Athlean X channel owner optimizes video titles)

Use natural language and be descriptive, but don't use too many words

Add a relevant tag or popular YouTube tags to attract more viewers

Put something creative into the description which could stand out from other videos. You should write a good description but don't overdo with the long-tail keywords. Don't just put long-tail keywords and wait for better rankings. It's important to have a creative text that naturally includes long-tail keywords you want to be 'searched' on the platform.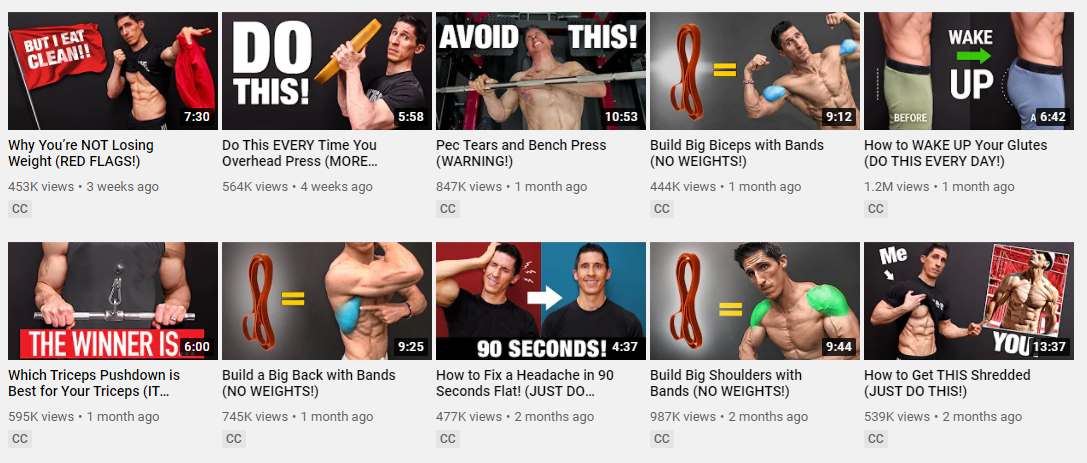 Create a good-looking thumbnail
Before reading a title, YouTube users look at the thumbnail. For instance, David Dobrik was putting his face into every thumbnail on YouTube. His faces were different along with the videos. For example, if the video is full of fearing pranks and stunts, then David would put a 'fear' face into the thumbnail. If the videos contain funny sketches and pranks, then he would put a smiling face into the thumbnail. So, if you are into the personal branding - learn more from David Dobrik's thumbnail game. (check the image below - you see how David was doing a 'thumbnail' game when he was active on the platform).

Not everyone is into the personal branding on YouTube. You may don't want to show your face and it's understandable. In this case, you should use high-quality images that can deliver emotional triggers to YouTube users.