How to Get More Organic Views on YouTube
Published on 09.05.2021 by Samuel Henderson
YouTube is one of the most popular websites on the internet. Whether you're looking for a tutorial, comedy skit, or your favorite singer's newest music video, YouTube has it all! But how can you make sure that if someone does happen to find your YouTube channel while searching on Google (or any other search engine), they will actually stay and watch some videos? In this article I'll discuss my personal experience with getting organic views on YouTube and what strategies have worked best for me so far. I hope this gives you some ideas about how to get more organic views of your own!
Make sure YouTube basics are optimized.
First of all, we should talk about the title and description. You can start with optimizing YouTube titles with niche-specific keywords. Let's get into the details: Before you optimize YouTube title, please note that the first 30 characters of a video's title is displayed as an on-page search result. Also, it does not mean that if you add more keywords to your YouTube title and description (and have them relevant), Google will start ranking these videos higher in its organic rankings.
It means only one thing - when someone searches for those specific words or phrases after clicking on one of the videos from YouTube results page, this particular video will show up in their search engine results page and they are likely going to click on it because it looks like exactly what they were looking for! (check the image below - you see how perfectly those YouTube channels are at "title' game! - they include the most important keyword in title and make it more attention-grabbing)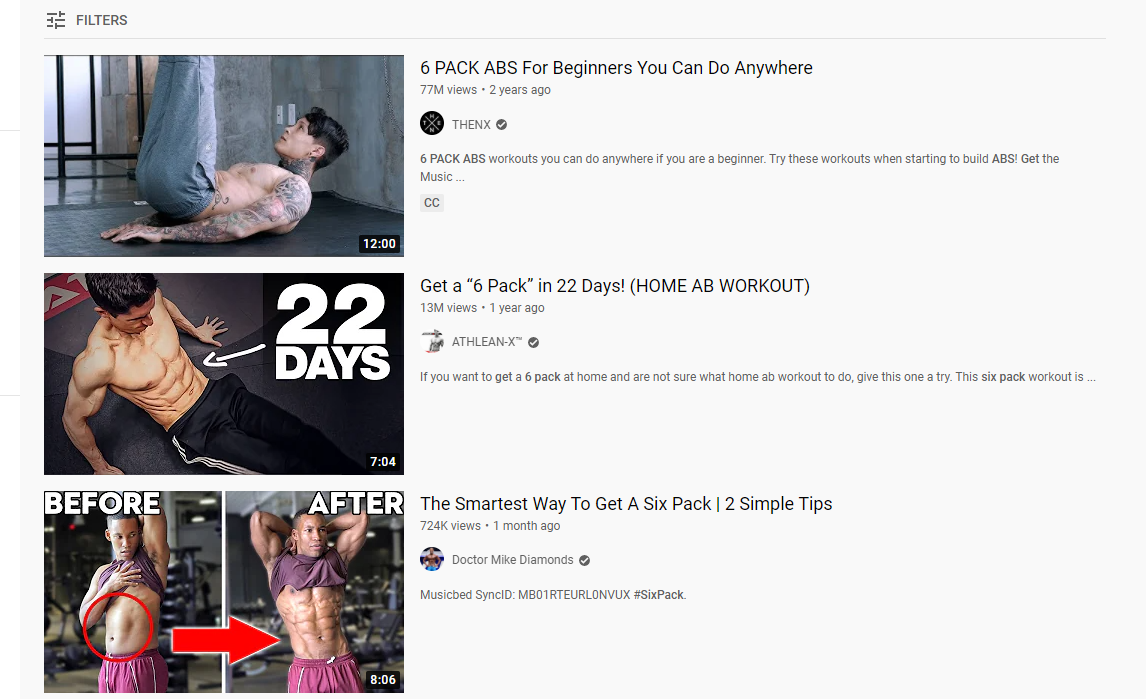 With all of these facts taken into consideration here is how we want our YouTube titles optimized:
Add relevant keyword in the title

You can add emojis to make it a little bit light

Title has to be eye-grabbing. Just like GaryVee says, we are living in the era of attention grabbing. So, grab attention of YouTube users by the title - it could be a tone of the sentence, emoji and even keyword.
Get better Thumbnails
It's important to add relevant thumbnails. Along with eye-grabbing titles, your thumbnails strategy has to be on point also! How to get better thumbnails on YouTube?
Add keywords to the thumbnail

Put YouTube logo in the background

Take feedback on your thumbnails strategy by different people. Choose 3-5 friends and ask them to rate thumbnails and give you some tips. If at least half of them dislike the thumbnail, leave it and start working on a new one.