Effective SoundCloud Promotion Strategies
Published on 14.06.2023 by S.N
Are you an upcoming artist looking to make your mark in the music industry? Are you wondering what effective strategies you should be using for SoundCloud promotion? If so, then this blog is for you. In this blog post, we will discuss some effective SoundCloud promotion strategies. Creating music is one thing but making sure that it reaches the right people is a whole different ball game. SoundCloud is one of the most popular music streaming platforms today, with millions of users and artists from all around the world. It's an excellent platform to share your music and gain exposure. So, let's get started;
What is SoundCloud?
SoundCloud is an online audio platform that allows anyone to share, listen, or even create their own music. It's the perfect place for people who are interested in exploring music or creating their own tunes. The platform provides users with a huge variety of choices from popular new artists to established producers, as well as the ability to upload their own audio tracks. With over 175 million monthly users from all around the world, SoundCloud has become one of the most popular music streaming platforms on the Internet. It provides an easy way for its users to discover, upload and share new music with their friends or even to a wider audience. Some of the key features of SoundCloud include:
Record and upload original audio from any device - record, edit and share audio directly from your computer, phone or tablet.
Stream free - access millions of songs in the SoundCloud library and find new and emerging artists.
Create playlists - easily create and organize playlists with your favorite music.
Promote your content - use SoundCloud's powerful tools to promote your music to a wider audience.
Connect with fans - connect directly with other users and artists, exchange messages and build relationships around your music.
SoundCloud provides an easy way for its users to create, promote and share their own audio content. With its vast library of millions of tracks from both independent and major record labels, it is the perfect platform for aspiring musicians, DJs, and producers to get their music heard by a broader audience. With its powerful tools and features, SoundCloud helps users create and promote an online presence for their audio content.
Effective SoundCloud Promotion Strategies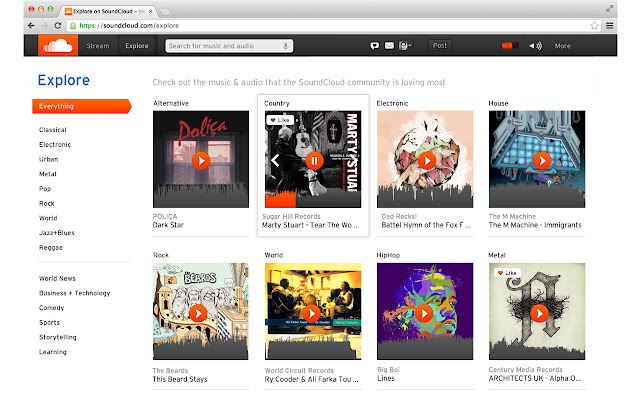 If you're an artist, band or DJ looking to promote your music on SoundCloud, here are some effective SoundCloud promotion strategies:
Produce well-produced tracks that stand out
Producing well-produced tracks that stand out is one of the most important SoundCloud promotion strategies. The quality of the music you upload to SoundCloud can make or break your success. Invest in a good microphone, sound card, and recording software to ensure your tracks sound professional.
Create a killer SoundCloud profile
Your SoundCloud profile is the face of your brand and it should reflect your sound, aesthetics, and goals in order to capture the attention of potential listeners. Make sure your profile is attractive and up-to-date, with a professional photo or logo, an engaging bio, and a website link. Also, make sure to include all important info about your releases, shows and upcoming events in the profile page.
Engage with your audience through comments and messages
Keep an open dialogue with your followers by responding to their comments on SoundCloud as well as reaching out via direct message or email. Creating an engaging conversation will help you build a strong connection with your fan base and develop a sense of loyalty from them.
Collaborate with other artists
Collaborations can open new doors for both parties involved in terms of increasing reach and building connections. Consider working together with other producers, DJs or labels that are within the same genre as yours to gain more exposure for both sides.
Utilize SoundCloud tags and descriptions
Using keywords in your SoundCloud tags and descriptions can help potential listeners to find your music. Make sure you include relevant and popular keywords that are related to your specific genre or sound in order to get maximum visibility.
Utilize SoundCloud's playlist and repost features
Using the playlist feature can help you create a great listening experience for potential listeners by curating tracks according to the theme of the playlist. Also, you should consider utilizing the 'repost' function available on SoundCloud as it makes it easier for other users to share your track with their followers which will ultimately result in more exposure for yourself.
Cross-Promotion on social media
Promoting your releases across multiple social media platforms can be extremely beneficial in terms of increasing the reach of your music. Consider creating official accounts on platforms like Facebook, Instagram and Twitter so that you can share links to your SoundCloud page as well as other relevant content about yourself.
Consider providing free downloads
Offering free downloads of your tracks is a great way to build up a fan base quickly. Make sure you include a link to your SoundCloud page at the end of the download page so that potential fans can check out more of your work.
Identify trends and adjust your promotion strategies accordingly
Keeping an eye on industry trends is important in order to stay ahead of the game. Pay attention to what's currently popular and how it might influence the way you promote yourself and make any necessary adjustments to your overall SoundCloud promotion strategy.
Wrapping Up
SoundCloud promotion is a great way to get your music heard and reach out to new fans. With the right strategies, you can easily increase the visibility of your soundtracks and gain more attention from potential followers. To maximize success, focus on creating quality music that will be attractive to your target audience, use existing networks and social media platforms for promotional activities, optimize your SoundCloud profile, and identify trends and adjust your promotion strategies accordingly - these tips and tricks can help you make the most of your SoundCloud promotion campaign and take your music career to the next level. Good luck and thanks for reading!